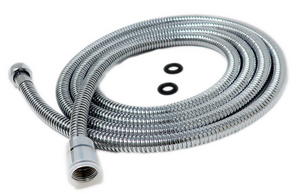 Wondurdog
Eight Foot Flexible Metal Hose for Shower
Regular price
$12.99
$0.00
Unit price
per
Anit-Rust / Anti-Corrosion. Two washers included.

High Quality: Exterior tubing is made from High density 304 stainless steel tube design, chrome finishes resist corrosion and tarnishing. Inner pipe made of superior quality EPDM material for high pressure and temp resistant

Flexible Shower Hose : Kink-free,Solid Brass Connector fit most shower fixture with its 1/2" ends, comes with rubber gasket (NBR material), good sealing, and no leakage.

Shower hose connectors are 1/2" US Standard threads size, fitting for more than 99% US family shower water supply and handheld shower head connections.
---